9 Best DIY Thanksgiving Place Cards
9 Best DIY Thanksgiving Place Cards
I love using place cards at social gatherings that I host.
Not only do they fend off any uncomfortable conversations (or at least limit them!), but they add the best design touch to any festive tablescape.
I've pulled together the 9 best DIY Thanksgiving place cards to try for your holiday feast.
Why Use Place Cards
Place cards eliminate any social anxiety that guests may have about where to sit.
Especially if you're hosting a Friendsgiving feast with friends from all parts of life: school, work, worship community, neighbors, and other, it's a great way to connect people you think will hit it off (or those who you WANT to hit it off!).
And almost half of the place card ideas you'll find below will take less than five minutes to make.
My guess is you have all the materials you'll need in your scrap craft bin or the great outdoors.
Whichever place cards you decide on, enjoy and share your goodies when you tag #satsumasmiles on Instagram.
9 Best DIY Thanksgiving Place Cards 
Candy bracelet place card
Yum yum! Use these candy bracelet place cards at the kids' table this Thanksgiving! Dress them for adults with a fun dollar store cocktail ring and bow tie for the gents.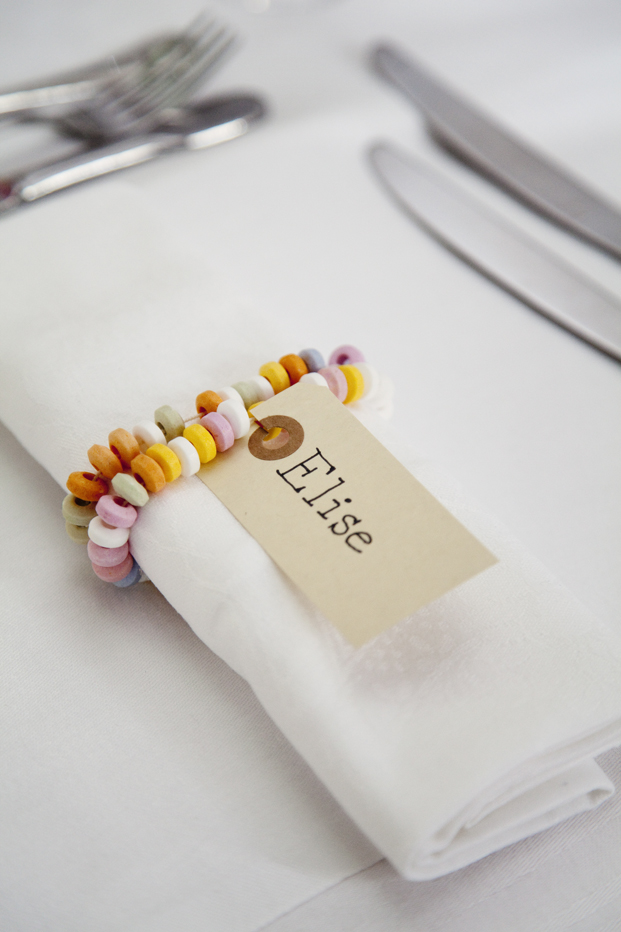 Rosemary sprig place card
Enhance any place setting with the lovely scent of rosemary when you create this sweet and easy place card.
Substitute any fresh herb that you have on hand in your container garden or from the grocery store.
via Spoon Fork Bacon  
Felt Mayflower boat place card
If you have a little more time on your hands, try this easy sew place card project with the kids.
They will love seeing their handiwork featured at the lovely Thanksgiving table.
Fill each boat with sweet treats and raise the paper flag with a skewer.
via Sheeks Shindigs
Paper turkey feather and cork place cards
Always a great use for corks, there paper turkey feather place cards are easy to make with upcycled materials!
Mini caramel apple place card
Probably the most delicious place card design in this bunch, these sweet mini caramel apples make a tasty dessert - IF your guests can wait that long to devour them!
via DIY Network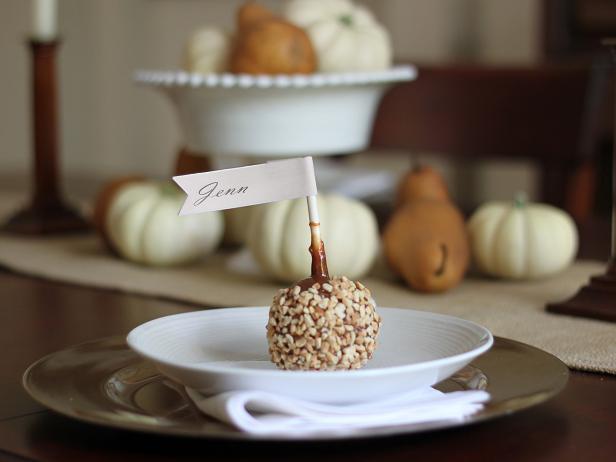 Ombre paper pumpkin place cards
Pretty paper place cards are easy to make with hand painted card stock, a pair of scissors and some rolled printer paper.
Enjoy making these with the kids!
via Oh Happy Day
Twig and twine place cards
Ah! Foraged place cards are my kind of detail. Hit the park for a nature walk to collect small twigs then wrap them together with some rustic twine.
Make it easy on yourself by dabbing a bit of hot glue between the twigs and then tie them!
Falling leaf paper place cards
Use freshly preserved natural leaves or paper leaves for these dimensional place cards.
via Martha Stewart 

Golden painted corn place cards

Grab your short cuts spray paint and have fun covering seasonal veggies with gold or silver metallic paint.

Hand letter your guests name for a personal touch!

via Freut Cake
HELLO THERE!
Today is a gift. Let's put a bow on it!
Find creative and sustainable ways to make family life a delight! Sharing modern etiquette that kids will enjoy.
💕 jennifer
CATEGORIES