Best No-Bake Birthday Cakes
Best No-Bake Birthday Cakes
Surprise! There are so many reasons you might want to opt for a no-bake birthday cake this year. From hot summer birthdays to an unnatural obsession with ice cream cakes. I fall into both categories! Another reason is the absolutely amazing array of delicious options for the occasional no-bakers among us. I was inspired by Julianne Bayer's book No-Bake Treats and her many tasty recipes at her blog Beyond Frosting.
Lest you think that the no-bake birthday cake is a cop out from traditional baking and dessert magic, I've taken great care to uncover desserts that will delight the eye, palate and a mob of 6 year olds.
Best No-Bake Birthday Cakes
I'm kicking off this Best No-Bake Birthday Cakes round-up with Ms. Bayer's Birthday Cake Lasagna, which visually sent me into sugar shock. Check this out!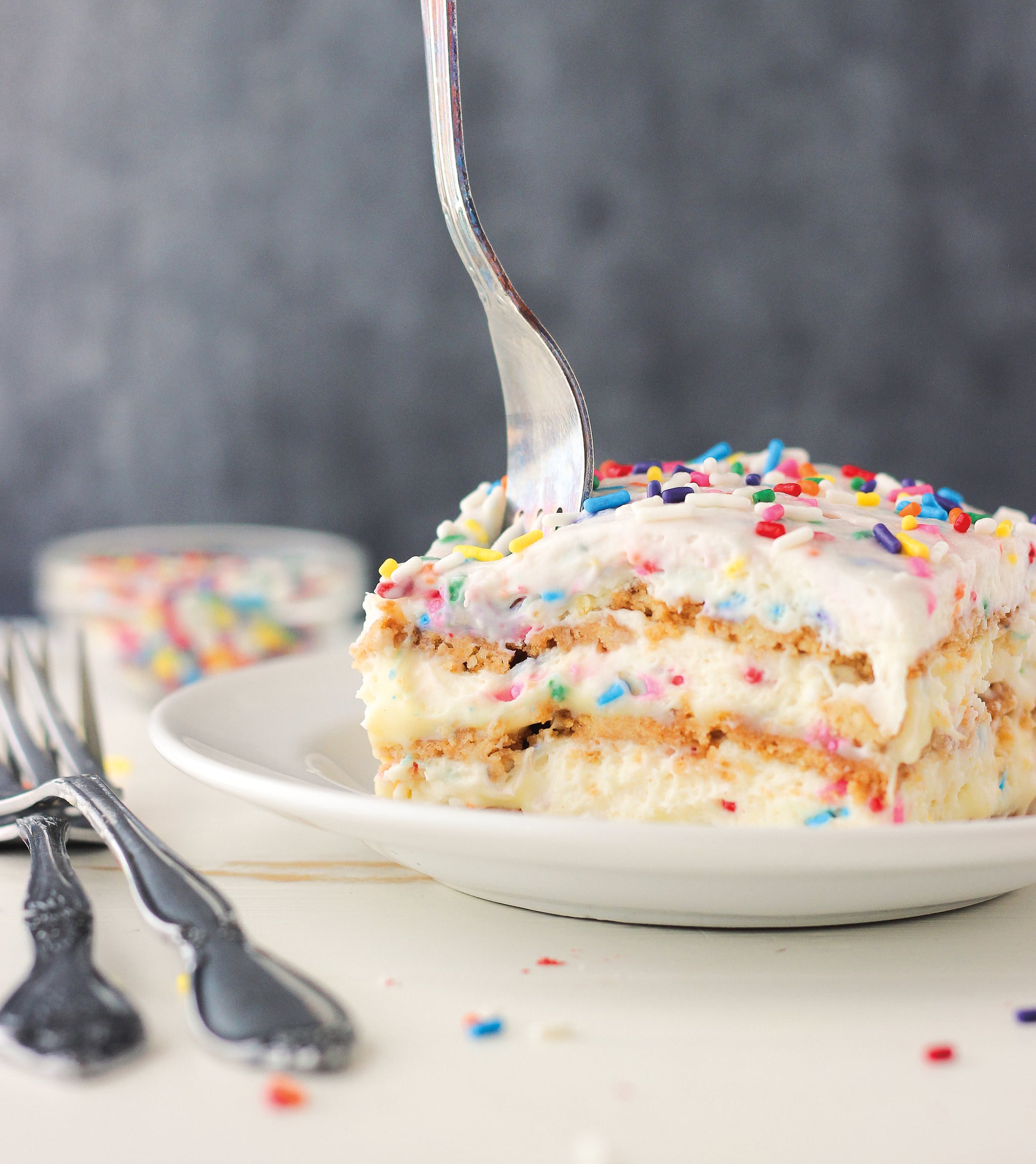 Strawberry Cream Pie
This classic icebox cream pie recipe is made gorgeous by the addition of fresh strawberries. This no-bake birthday cake is perfect for a princess or ballerina party! Get the recipe here.
Cookie Dough Bars
Many years ago my brother asked for cookie dough as his birthday cake. I think this fellow was well ahead of his time. There are lots of delicious cookie dough treat recipes that don't contain raw eggs like those from the good old days. Try this recipe here! 
Donut Cake
These donut cakes are the most adorable idea for any age. I love how they've used sweet party favors to embellish store bought donuts, making this super special for a little winnie the pooh fan.
OREO Mint Cheesecake
This OREO Mint Cheesecake recipe combines the best of the no-bake birthday cake elements: ice cream and cheesecake COLD. Get the recipe here.
Watermelon Cake
This is an absolutely dreamy recipe that's healthier than some of the other no-bake birthday cake options. Super fun and easy to make, get the watermelon cake recipe here.
Rice Krispies Sprinkles Cake
No no-bake birthday cake collection of mine would be complete without a nod to my favorite sweet treat. Rice Krispies treats are my go-to potluck dessert, after school snack and Saturday night movie fare. Get the recipe for this gorgeous Rice Krispies sprinkle cake here. 
Cookies and Cream Ice Cream Cake
Not only is a fast and delicious recipe, but it calls for only three ingredients from The Soccer Mom Blog - SCORE! Get the recipe here. 
HELLO THERE!
I help people cultivate the joy of giving! From gift giving and party hosting to creating daily moments for giving and gratitude, find your inspiration here at the GIVE MORE blog.
♥ jennifer
CATEGORIES